JC13
SHINDO [Silicone] × Pierre Charpin
Research & Development : Tomoya Tabuchi
The elegant poise of silicone: a perfect fit for modern living
Silicone is a well known material that can be found in many scenes of our daily lives, for example, aircrafts, cars, construction material and kitchen ware and so on. Why is it so versatile? It is because silicone is heat resistant(up to 250℃), cold resistant(can stand -40℃)、water proof, weather proof and has insulation properties. SHINDO is a company that focuses on silicone, and continues to research and develop the possibilities of this material.
For this project, we matched Pierre Charpin with SHINDO. He has designed many mass production items and at the same time, is known to create one of a kind pieces. Being an expert in design in the broader sense, he took care to research in detail "the fundamental possibility that the material possesses." When Charpin visited the factory, he was especially interested in the techniques of one-piece molding. Also, SHINDO asked for "an item for daily use."
Taking into account all of these ideas, Charpin proposed designs for a candle holder and an incense holder. The simple and elegant forms fit in perfectly with the modern day lifestyle. He utilized the heat & water resistant quality of silicone to create new product suitable for our daily lives.
This product was presented at the Stockholm Furniture Fair gaining very good reviews and now it is on sale from SOGO Seibu Department Stores and LOFT.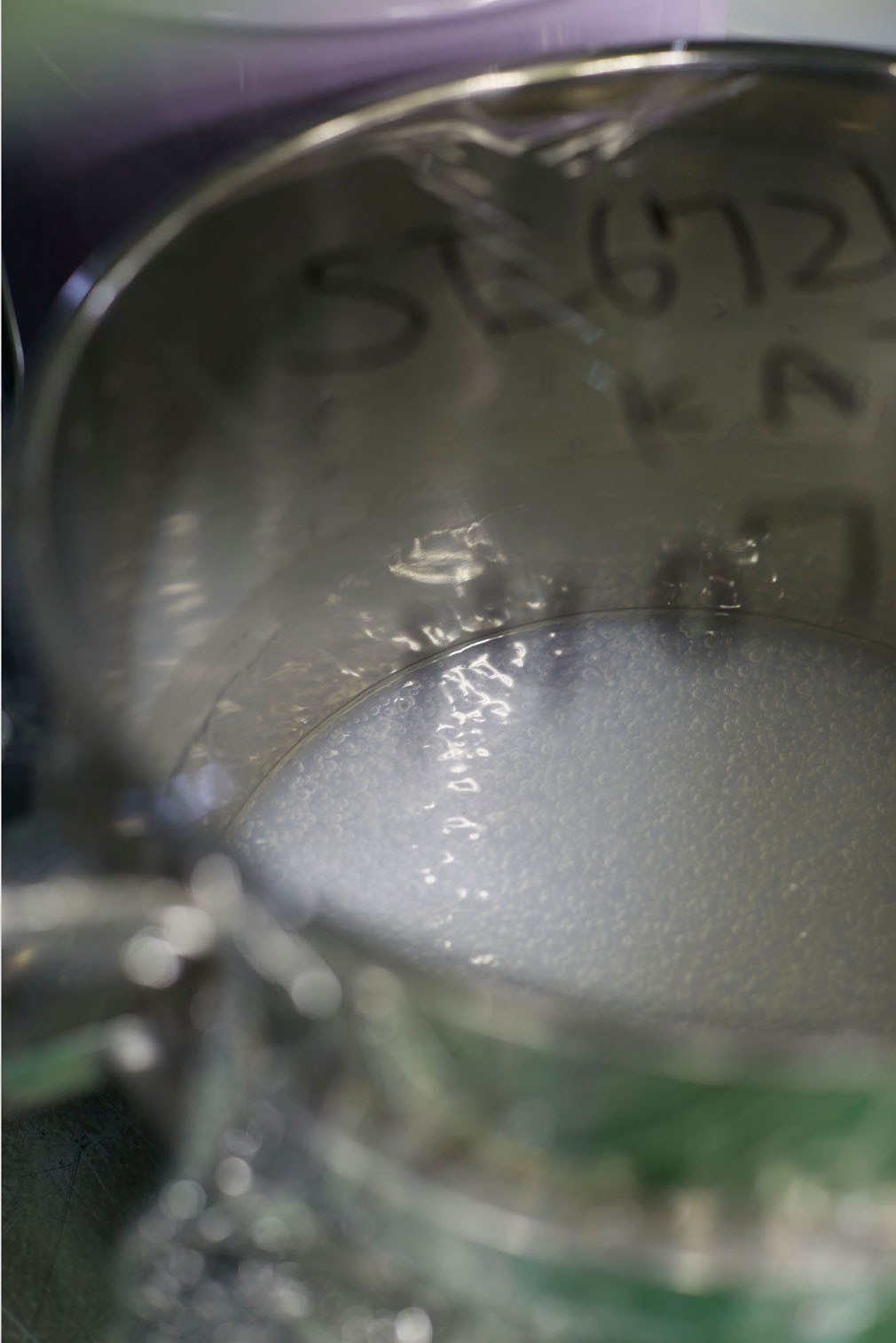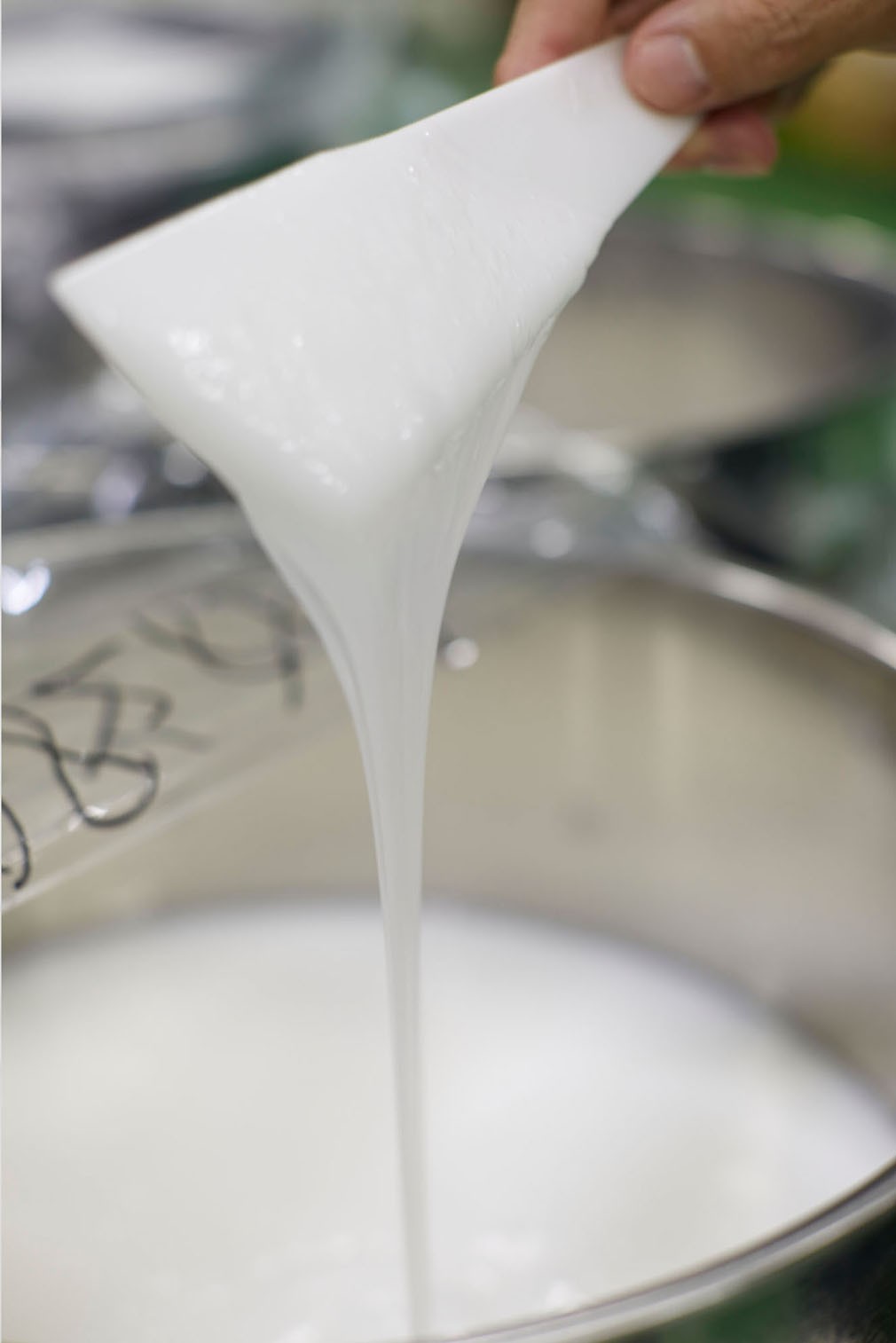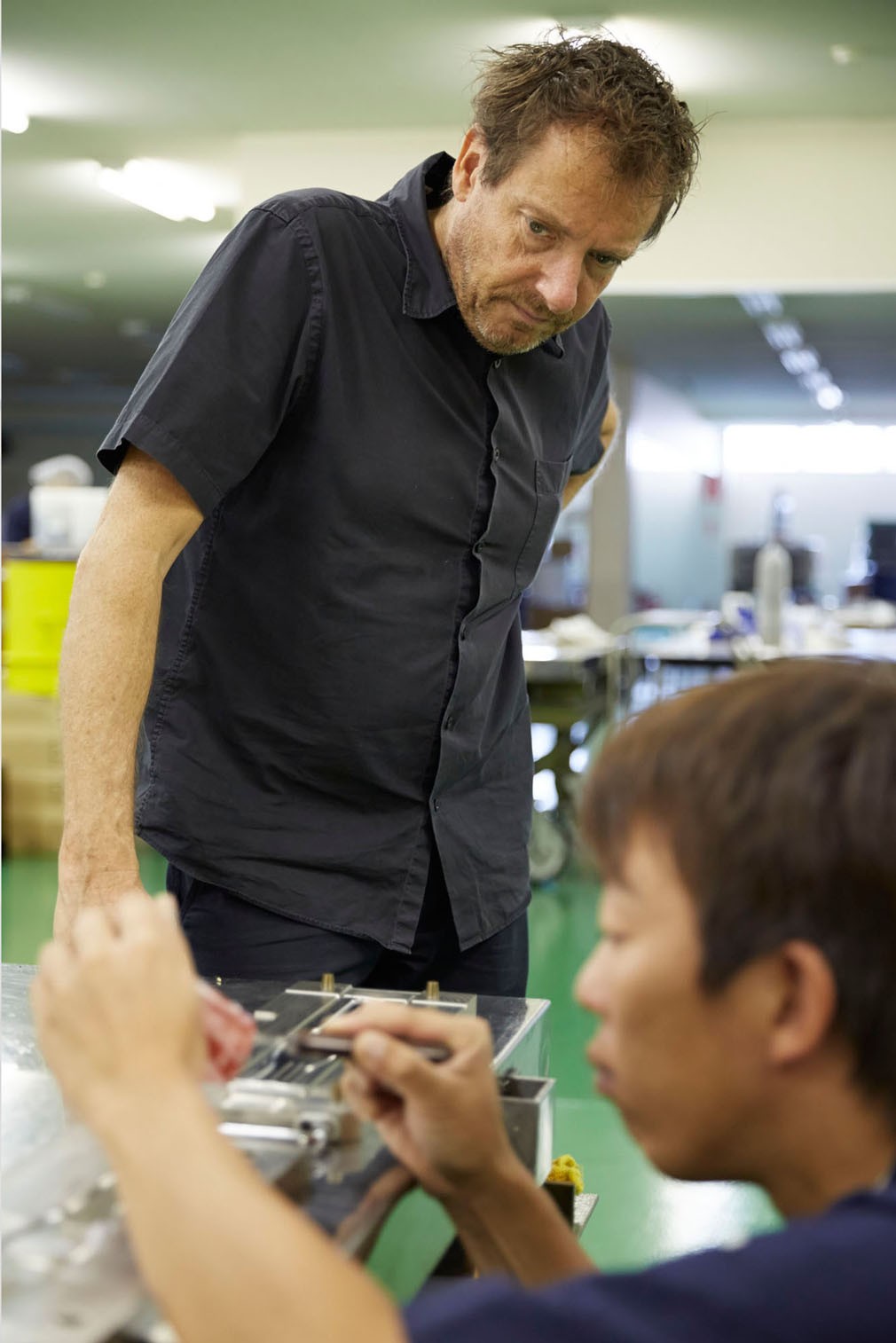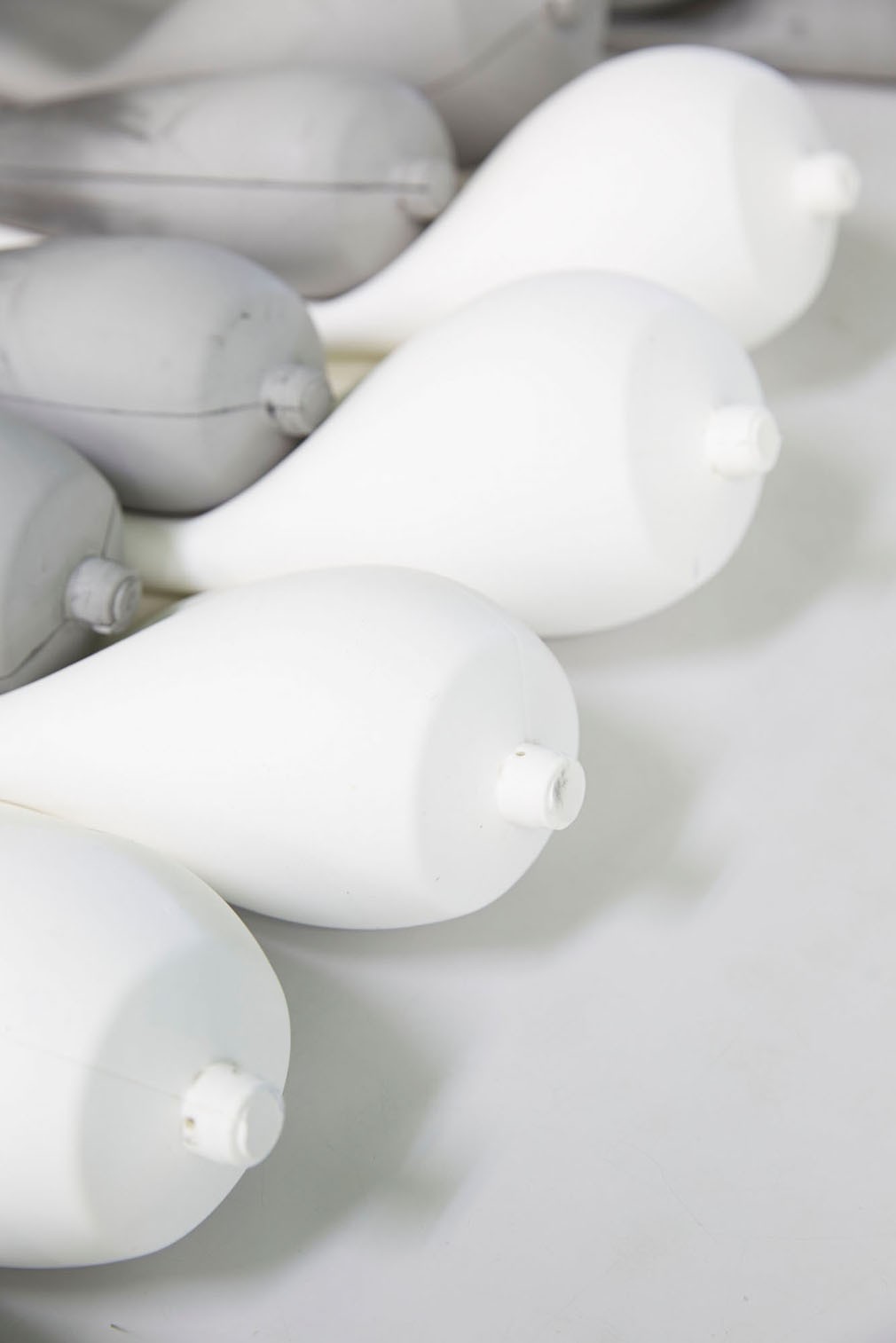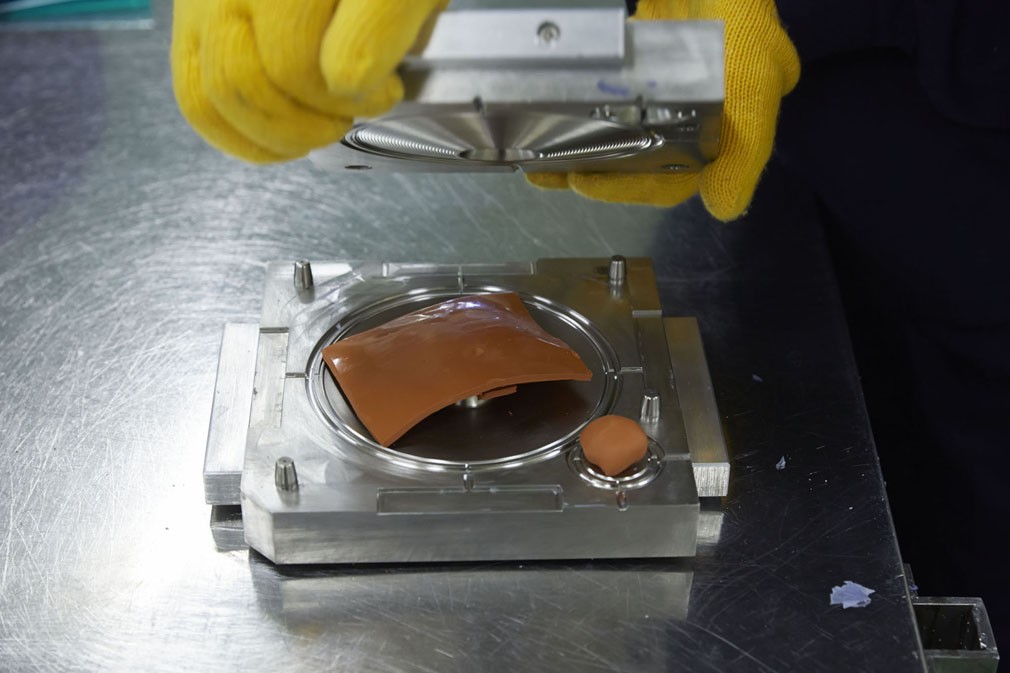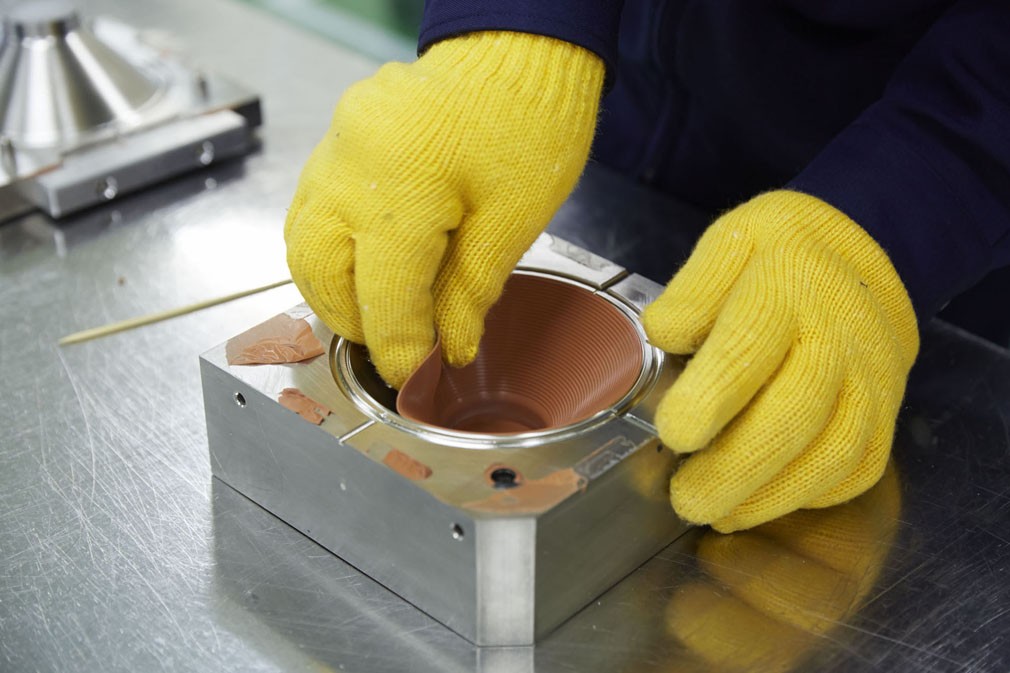 SHINDO
SHINDO Co., Ltd's three main lines of business are fashion accessories, industrial materials, and silicone. Fukui Prefecture, where SHINDO's sales headquarters are located, was already known as a silk-producing area as far back at the Nara period, in the 8th century, and these days it is a general manufacturing area, home to a wide variety of textile industries. SHINDO has made Fukui its own home for more than four decades, developing as a specialist in ribbons, cords, tape and other long, narrow textiles. Its Silicone Division was established in 1991 to focus on the potential and the superior characteristics of this material. Building on the research and development, the company aims to develop products which can respond to future needs by providing high added value.
Pierre Charpin
A visual artist who obtained his degree from the National School of Fine Arts in Bourges in 1984.In the early 1990s, he decided to concentrate on designing objects and furniture. His research appears in the projects which he develops for the Design Gallery Milano and the Kreo Gallery in Paris.
In tandem with his more experimental projects his work is recognized by various companies of international renown such as Zanotta, Venini, La Manufacture Nationale de Sèvres. ALESSI."Triplo" vase produced by Venini appears in the selection of the Compasso d' Oro 2005. The Paris Furniture Fair elects him creator of the year 2005. He has several personal shows and several of his pieces are included in the collections of the FNAC (National Foundation for Contemporary Art) of the Georges Pompidou center and of the Decorative Arts Museum of Paris.
Research & Development: Tomoya Tabuchi
Born in Tochigi in 1974. After graduating from Kuwasawa Design Institute, he worked as an in-house designer for a furniture company. In 2010, he founded [office for creation] and began working as a freelance designer. Specializing in furniture design, he is also works as a graphic designer and art director.