JC14
Taketora [Bamboo Products] × Stefan Diez
Research & Development : Wataru Kumano
"SOBA"
Careful research breathes life into bamboo
Bamboo is a very familiar material for Japanese people. Records show that remains of the plant has been discovered in ancient ruins from the Jomon Era. Light and easy to work with, bamboo has been used to make farm tools, hunting tools, fishing tools; an essential material in the lives of the Japanese. In recent years, its beauty and toughness has attracted attention from creators all over the world.
In Kochi prefecture, 84% of the prefectural land is covered in forests. It is a very mountainous area where forestry and carpentry thrive. Here, bamboo is used not only for traditional craft but it is also considered as a local resource for the future. Many new projects use it in innovative ways, such as components for industrial products.
Taketora, established in 1894, is a manufacturer that specializes in bamboo products. Their skilled craftsmanship has attracted popularity from overseas and its celebrated beauty gained respect as "a miracle bamboo."
After visiting Taketora and its surrounding bamboo forest for research, Diez has focused on the essential, living nature of bamboo – the way the fibers become denser the closer they get to its surface, giving it superb elasticity and resistance to breaking, and the fact that its specific gravity is higher than oak wood, making it harder. Taketora designs and develops furnishings that draws on its techniques to create richly dynamic finished products, while developing the detailed performance that has been passed down for producing benches, low fences, and hedges for over 120 years.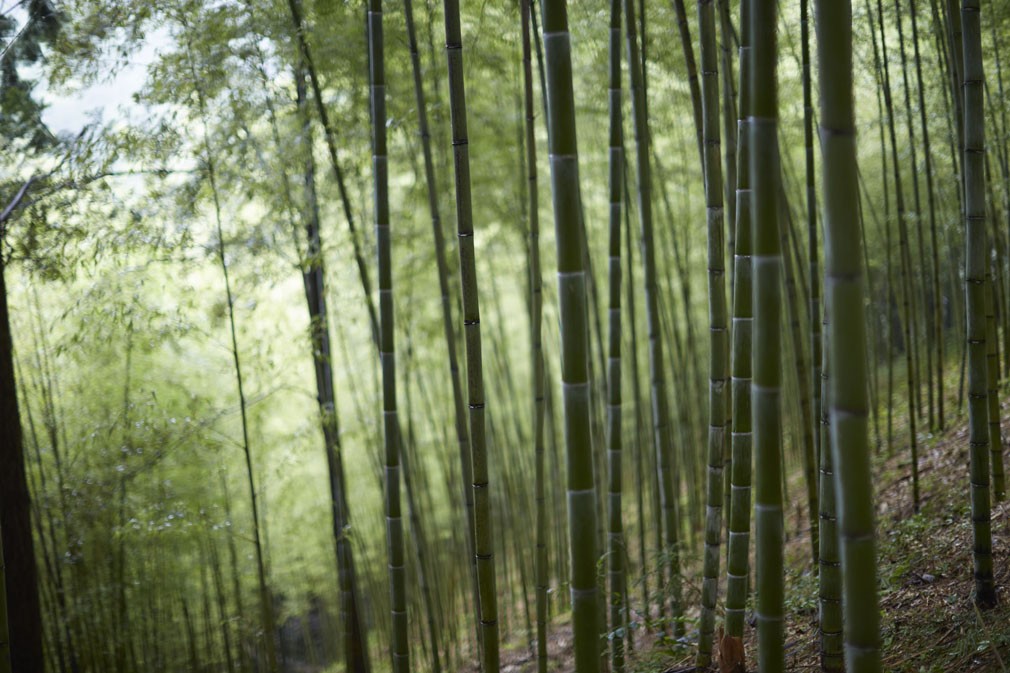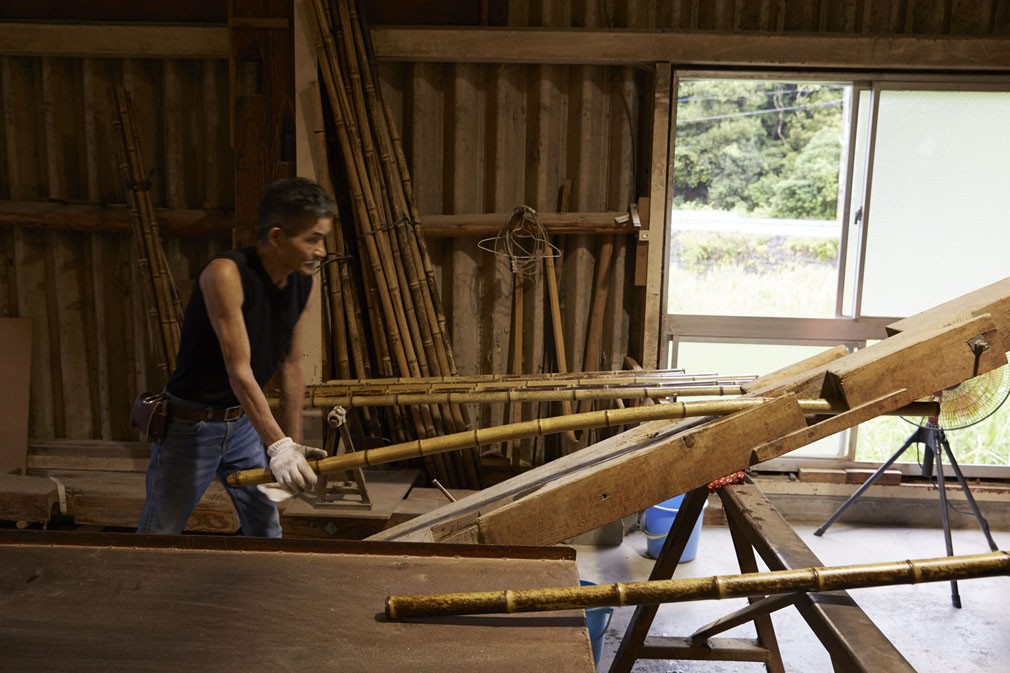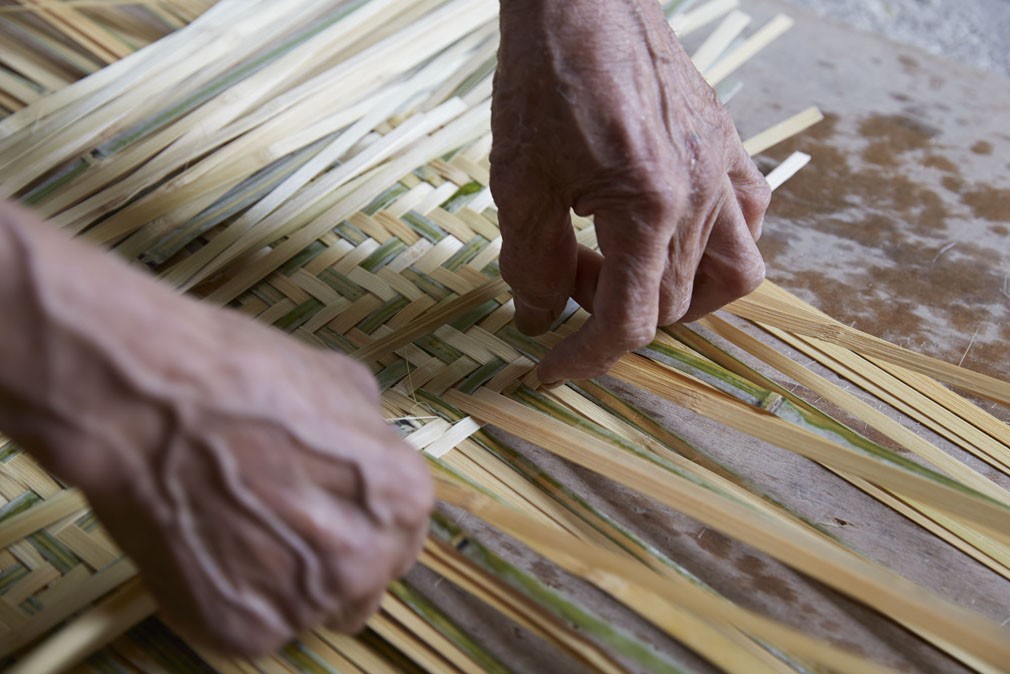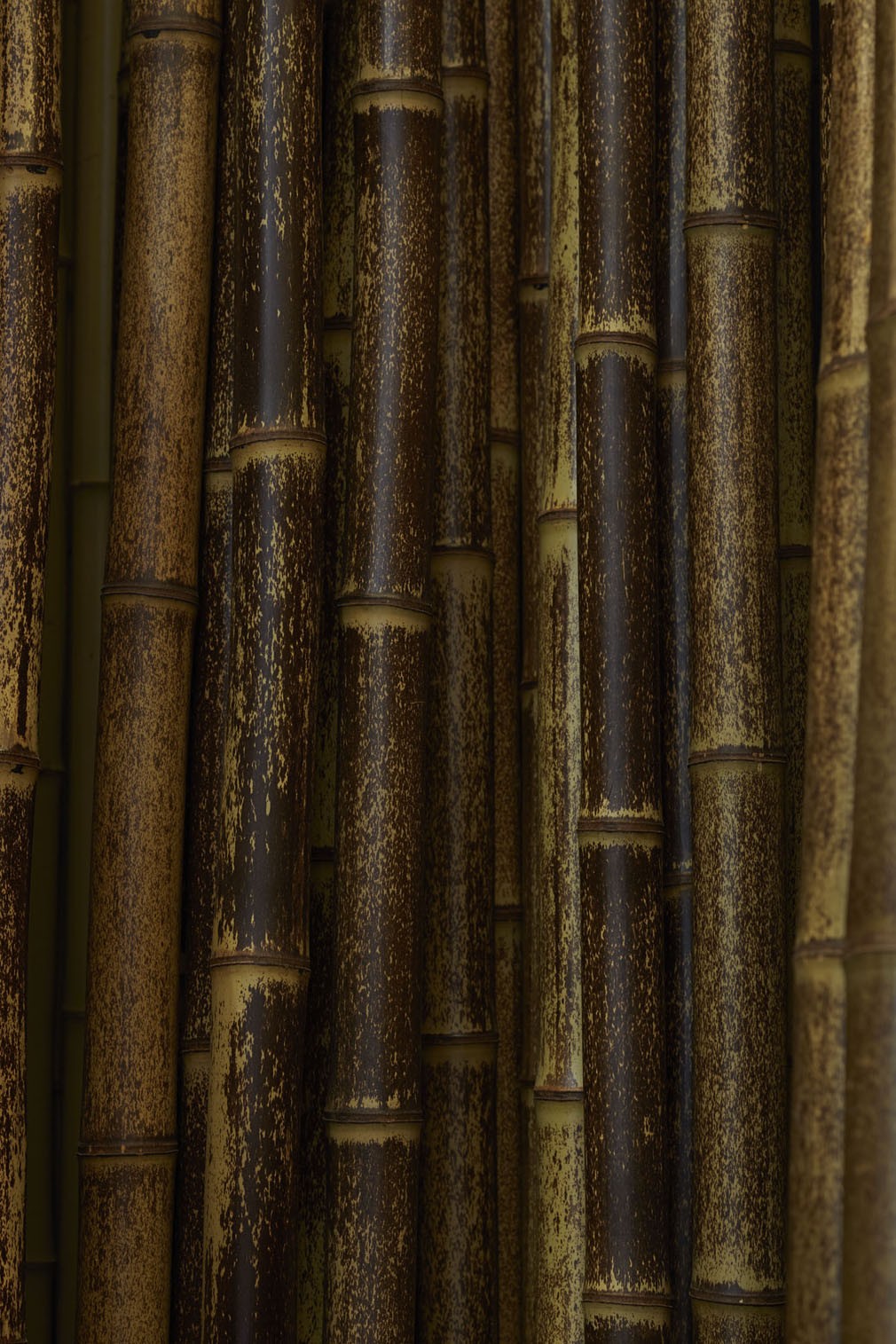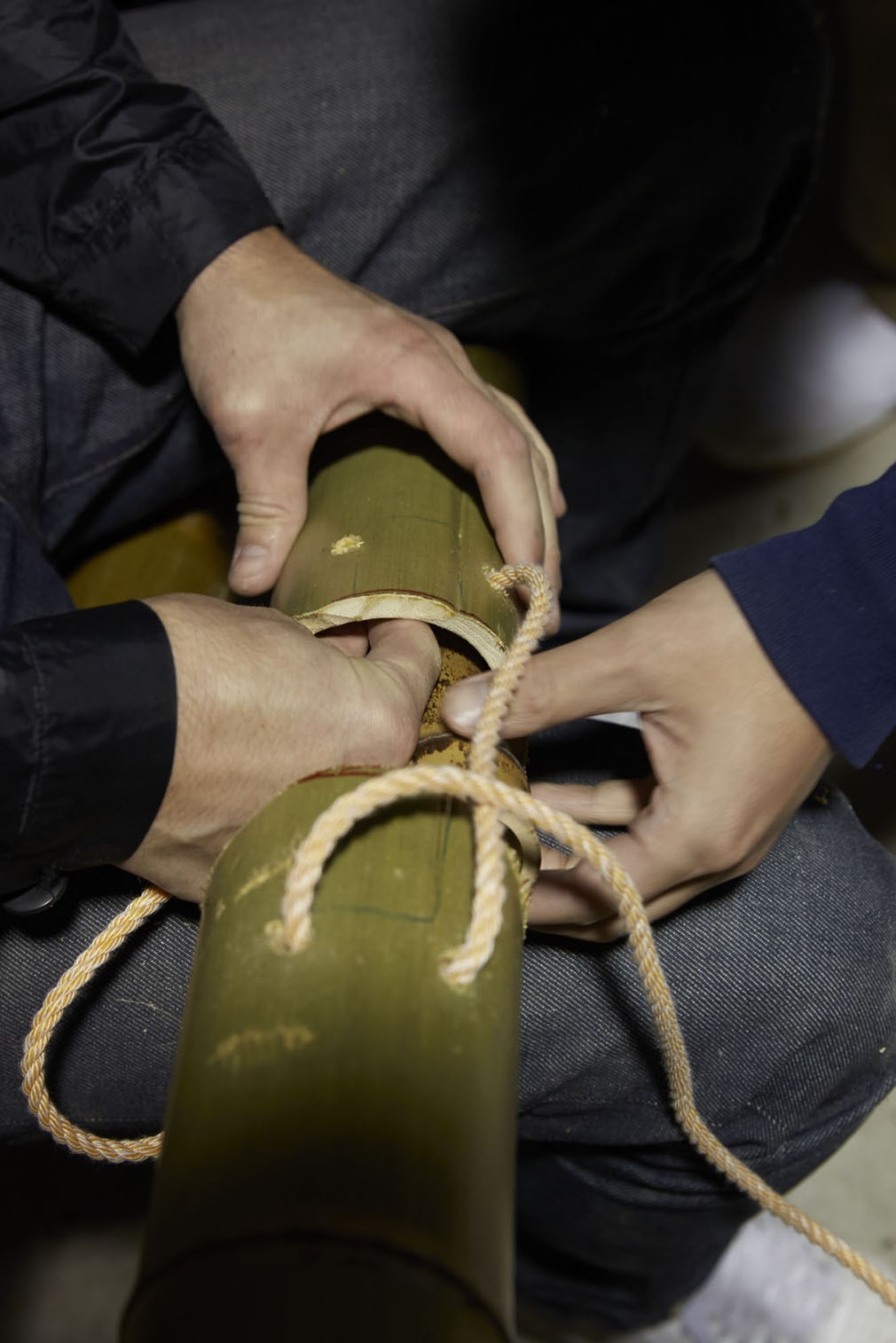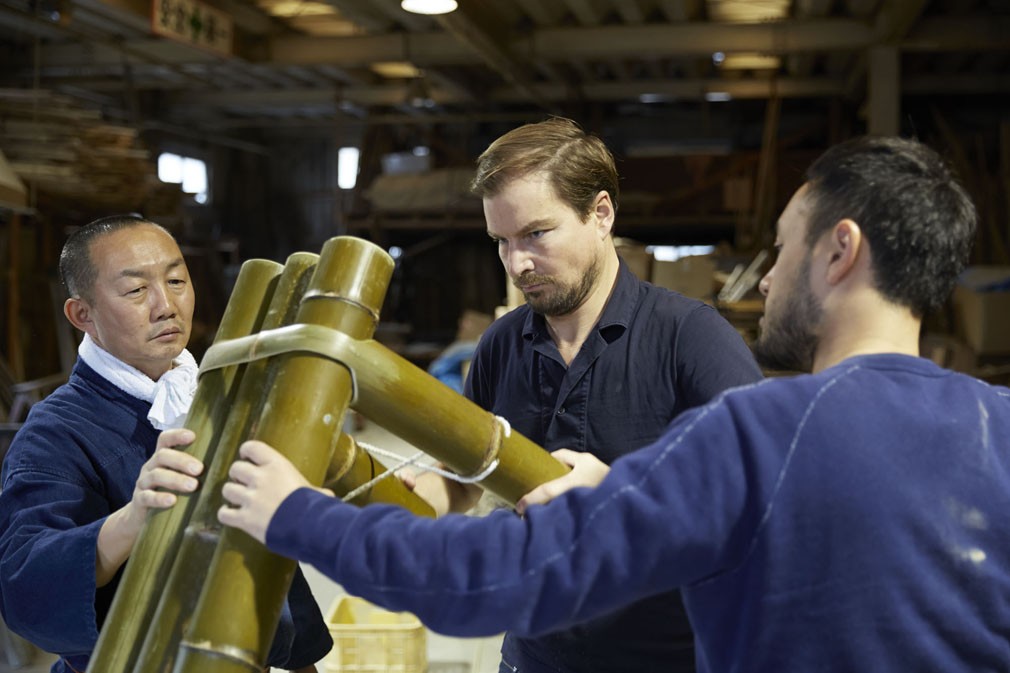 Taketora
Starting its business in 1894, this specialist manufacturer of bamboo products has been active in the manufacture and wholesale of bamboo materials and products under the brandname Taketora. The name "Taketora" comes from the torafudake, or "tiger-spotted bamboo," that only grows in the Awa region of Susaki, a city in Kochi Prefecture, where the Yamagishi Bamboo Shop is located. Torafudake is a variant of P. nigra 'Henon' bamboo, a rare cultivar where blackish-brown spots in the pattern of spots on a tiger's coat appear. At present, under the fourth-generation president, this torafudake, and the technical abilities honed over more than twelve decades, are treasured and passed down, while the company also offers a rich "lifestyle with bamboo" through the creation and dissemination of a bamboo culture. With this corporate philosophy in mind, Taketora is actively engaged in spreading the appeal of all types of bamboo products from Japan.
Stefan Diez
Stefan Diez's introduction to furniture design started in 1991 when for three years he worked as a cabinet maker. Diez went on to study at Staatliche Akademie der Bildenden Künste in Stuttgart in 1996 where he attained a Diploma in Industrial Design. He founded his studio in 2003 and since then has worked in various fields of design ranging from furniture and tableware to industrial design, as well as exhibition design for companies like Authentics, Bree, e15, Established and Sons, Moroso, Rosenthal, Thonet, Wilkhahn and others. Since 2007 he is Professor for Industrial Design at the HFG Karlsruhe. Diez works intensively with materials, technology and is passionate in his quest to fathom out their limitations. Together with his office they develop products that are precise, yet simple and above all are meant to meet human needs. Some of his products have received international design awards, among others the "Designpreis der Bundesrepublik Deutschland", the "IF Gold award" and the "red dot best of the best award".
Research & Development: Wataru Kumano
Born in Tokyo in 1980. From 2001 to 2008 studied in Finland, studied Furniture deisgn at Lahti Polytechnic (2001-2004 BA), and University of Art and Design Helsinki (Aalto University) for Postgraduate studies (2005-2008 MA). After came back to Japan, he start work as an assistant designer of British Product Designer Jasper Morrison in Tokyo in 2008. Beside of the work, set up own design office "KUMA" in 2011, and work for interior, furniture, product design and project management.